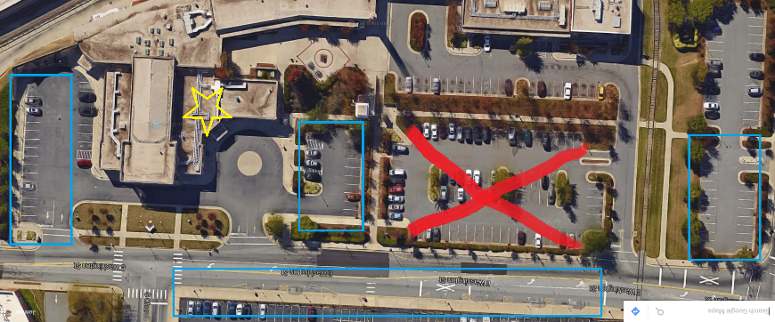 Hello Students and Families:
The main rehearsal and performance space for the Music Center is at the Depot, 236 E. Washington St. in downtown Greensboro.
We will use space at the Depot for all of our events unless the Calendar of Events says otherwise.
The Depot is very near the Music Center (The Cultural Arts Center). As you leave the Church St. parking deck (the one behind our building) turn right and drive to the end of Church St. The Depot will be directly in front of you.
Above is an aerial view of the Depot, showing where we enter the building and where you may park. The yellow star indicates where we enter the building. Parking may be something of a challenge. As I understand it, you won't have to pay for parking in the areas within the blue rectangles.
You can park in meter spots, handicap (if you have a handicap permit), and lot 18 (marked on the map). City parking meters are free on the weekend and after 6:00 on weeknights.
We are also allowed to park in the lot, across the street from the Depot, on the corner of Washington and Church St.
YOU WILL GET A TICKET IF YOU PARK:
--In the circle drive in front of the door.
--In the long term lot.