VIOLIN INSTRUCTION YEAR ROUND!
Suzuki Approach, Including Suzuki-style group lessons: Age 4 through adult.
Modified Traditional Approach: Age 13 through adult.
We are devoted to the principles of
The Mother Tongue Approach
of Dr. Shinichi Suzuki. Dr. Suzuki's ideas shape a life-time of musicianship that can begin at a very early age. Other teachers and their students join me for group lessons, student performances and workshops.
Come visit us to observe lessons and events.
Creative Greensboro
200 N. Davie St., Box 2
Email: Evesviolin@Aol.com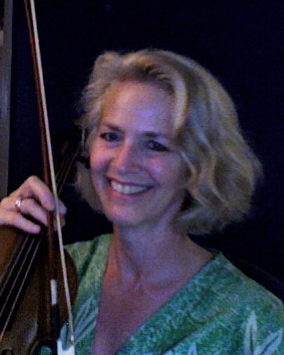 ANNOUNCEMENTS
--I HAVE ROOM IN MY SCHEDULE FOR NEW STUDENTS. New students may begin instruction at any time. If you wish to be added to my individual lesson schedule, please read "Before Lessons Start" by clicking in the menu, above. When you're ready, fill out and submit the forms listed above under "Enrollment Forms" via email. For in-person individual lessons, please also send me a pdf or photo of your covid vaccination cards. Feel free to call with any questions.
--COVID PROTOCOL--FACE COVERING MUST BE WORN BY ALL IN ATTENDANCE AT GROUP AND INDIVIDUAL LESSONS. Please wear medically approved coverings. Bandanas and gaiters are not sufficient. We want to limit the number of people in the room so please avoid bringing extra family members or friends.
--LIABILITY AND IMAGE RELEASE WAIVERS: I will email these forms to new students. I must have these forms for the student and for everyone else who will be attending activities with the student. Before you attend, please email me photo or pdf of a signed liability waiver/image release form. Electronic signatures are accepted.
--Individual lessons are available on Zoom,
for anyone who wants them, both on a regular basis and for occasional needs.
One of the happy outcomes of the past three years is that we have all learned how to use Zoom!
I have an internet connection in my studio so we may have remote lessons any time we need them.
There will still be times when we will need to reschedule lessons but we won't need to reschedule for things like minor illness or a car that's in the shop!
--Some of the headings, above, have several articles attached to them. When you click on the heading, the "drop-down" menu appears as a new line of text below the top section.
--Students from other studios may join our group lessons. Please email Eve at evesviolin@aol.com to let her know you plan to attend. The fall and spring fee is $80 a semester for the first student in a family and $65 a semester for each additional student. The summer fee is $55 for the first student in a family and $50 for each additional student. The activity fee is included in these charges. Please make your check out to the person who teaches your group. For the summer groups, that person is Eve Hubbard.
--VIOLIN AND BOWS FOR SALE: I have in my possession several small violins, a fine bow and a couple of full-size student bows sale. For more info, email or call me.