VIOLIN INSTRUCTION YEAR ROUND!
Suzuki Approach, Including Suzuki-style group lessons: Age 4 through adult.
Modified Traditional Approach: Age 13 through adult.
We are devoted to the principles of
The Mother Tongue Approach
of Dr. Shinichi Suzuki. Dr. Suzuki's ideas shape a life-time of musicianship that can begin at a very early age. Other teachers and their students join me for group lessons, student performances and workshops.
Come visit us to observe lessons and events.
Creative Greensboro
200 N. Davie St., Box 2
Email: Evesviolin@Aol.com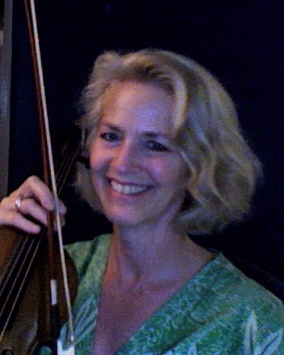 ANNOUNCEMENTS
--Oct. 29, 2020. IT'S WINDY. Some of you may have lost power. So far, I have power and plan to teach my regular schedule. If your power is off, try to have your lesson using data on your phone. If that won't work, try to call me and leave a voice message to tell me that you can't make it to your lesson today.
--UNTIL THE HEALTH WARNINGS ARE LIFTED, INDIVIDUAL LESSONS WILL BE GIVEN USING ZOOM VIDEO CALLS. THE INDIVIDUAL LESSON SCHEDULE WILL CHANGE A LITTLE. CHANGES WILL BE PUBLISHED AS THEY ARE MADE. Email me to get my meeting ID for Zoom.
--We'll have groups and "recitals" on Zoom until further notice. I'm trying to set up some times that small groups of us could meet in someone's yard or on the street to play together. CLICK ON "Schedules and Group Assignments", above, then click on "Calendar of Events" to find out when to join a ZOOM group lesson.
--Get going with SmartMusic. You'll use it as your accompaniment for your online recital accompaniment. The yearly fee is $20. I pay for our group's memberships. Please send a $20 check to me and I will email instructions for accessing SmartMusic.
--To All of our Students and Families,
ONLINE INSTRUCTION HAS GONE MUCH BETTER THAN I EXPECTED! I want to thank everyone for being so flexible. There have been some good things happening. I am glad to be able to report that every single student is making progress! Even some of our most casual practicers have been working more productively. (What?) It seems that all of you parents are becoming even better home-teachers. Dr. Suzuki would be very impressed with you! I know that I am! And another good thing is our health--NOT A SINGLE STUDENT HAS CANCELLED A LESSON FOR ILLNESS SINCE MARCH and it looks like this will be the first spring in about 30 years that I won't catch a cold from any of my students! Plus, most of the students took advantage of Smartmusic's free enrollment during the shut-down. (It now costs $20 per year. See above paragraph.) With Smartmusic, they can practice at any tempo with an accompaniment and the program will assess their intonation and their rhythm...it's like playing a video game while you practice!
TO PROSPECTIVE STUDENTS:
--Some of the headings, above, have several articles attached to them. When you click on the heading, the "drop-down" menu appears as a new line of text below the top section.
--Students from other studios may join our group lessons. Please email Eve at evesviolin@aol.com to let her know you plan to attend. The fall and spring fee is $80 a semester for the first student in a family and $65 a semester for each additional student. The summer fee is $55 for the first student in a family and $50 for each additional student. The activity fee is included in these charges. Please make your check out to the person who teaches your group. For the summer groups, that person is Eve Hubbard.
--EVE HAS A LITTLE ROOM IN HER SCHEDULE FOR NEW STUDENTS. New students may begin instruction at any time. If you wish to be added to her individual lesson schedule, please read "Before Lessons Start" by clicking in the menu, above. When you're ready, submit the schedule form (under "Enrollment Forms") via email. Feel free to call with any questions.
--VIOLIN AND BOWS FOR SALE: I have in my possession several small violins, one fine full-sized violin and 3 bows that I'm trying to sell for a friend. The full-size violin would be great for a serious high-school student or as a "gig violin" for a professional. (It's pretty darn sweet, actually.) The full-size bows are also fine and vary in price range. For more info, click above on "Violins and Bows for Sale".